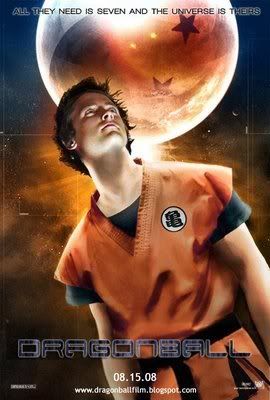 Wah…keren! Keren! Dan wajib nonton, karena saya penggemar berat Dragonball Z sejak umur 7 tahun, maka saya wajib menonton seluruh film yang berbau Dragonball. Ga disangka ternyata Dragonball Z dibuat versi nyatanya, tapi mungkin ga akan sekeren film kartunnya.
Karakter ciptaan Akira Toriyama tersebut tidak akan dapat hilang dimakan waktu, walau sudah beberapa puluh tahun…tapi Dragonball akan terus dikenang oleh para penggemarnya, bahkan beberapa manga terkenal meneladani karakter Dragonball (contoh saja Masashi Kishimoto, pencipta karakter Naruto yang sangat tergila-gila dengan Dragonball dan berusaha mengejar Akira Toriyama).
Pokoknya, afirmasi berikutnya adalah menonton Dragonball The Movie! Super Saiya…!
Dragonball Z The Movie :
is a 2009 American live action film adaptation of the Dragon Ball media franchise. The film follows Goku, played by Justin Chatwin, and his quest to obtain the mystical Dragonballs before the evil Lord Piccolo, played by James Marsters, can. The film began development in 2002, and is directed by James Wong and produced by Stephen Chow. It is scheduled for release on April 3, 2009.
Popularity: 18% [?]